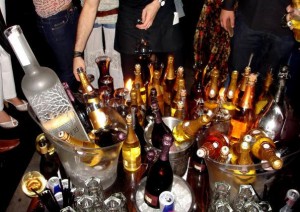 Knowing the door manager, knowing a name to drop, getting someone to put you on 'the list' – these can all be effective ways to get into a club (read our 4 part guide on how to get into exclusive clubs).  But they do not guarantee you will get in.  On popular nights (when big name DJs are playing or other special events are taking place) everyone will be trying to get in, many of them with the same connections that you have.  In NYC nightlife, getting in is never guaranteed, however, there is one type of person who is almost certain to breeze past the velvet rope — the big spender.
People Willing to Buy Bottle Service are Always Welcome Guests
Nightclubs are a business- and just like any other business- they exist to make money.  If you are a paying customer that makes you perhaps the most important ingredient in the concoction that is a successful NYC club.  While the fashion models may turn heads, swanky bankers and other customers pay the bills that let a club turn the lights on.
How Club Bottle Service Works in NYC
How to Make Reservations – Three Ways
Contact a venue directly – This method makes sense for people who buy bottles frequently and know the VIP hosts at different venues they want to go to.  If you do not have connections, then it can be difficult to get the attention of the staff.  this may seem counter intuitive– why would clubs ignore people who are interested in spending money?  When you consider that many people are trying to book a table and that the club has no problem selling out, it becomes easier to understand why they can afford to ignore people that they have not dealt with before.
Go through a promoter – Promoters usually have arrangements set up where they can facilitate table reservations for clients.  Going through a promoter is a win / win for both the promoter and the client as promoters usually have more negotiating power to bring down the minimum that a group must pay to reserve a table and the promoter himself receives a commission for bringing the client.  Promoters are compensated by the club for bringing clients, usually as a percentage of sales.
Go through a VIP booking service– Like promoters, booking services and concierges have arrangements with venues to facilitate table reservations for clients.  Going through service like this offers a client a way to get the attention of the most popular clubs (which they might not be able to get access to on their own) and gives them some negotiating power over their table minimum.  These services are compensated by the club for bringing clients, usually as a percentage of sales.
Introducing the Table Minimum
"Table minimums" are an amount that a customer agrees to spend in order to reserve a table in a club.  Minimums can range from as low as a few hundred dollars (at a less desirable party on a slow night) to +$10,000 (for a very popular party, usually with a big name DJ providing the music).  Generally speaking, clubs will seek to make between $100 and $1000 per head.
The Price That You Pay Depends on Many Factors:
How popular a night is – Most elite New York clubs are small (150 -300 person capacity) and have limited table space.  On popular nights, table minimums soar as the price is bid up by affluent customers willing to pay any price to get in to the best parties.  On nights with big DJs, club parties during fashion week, or very popular weekly parties ( Goldbar Sunday Funday, Lavo brunch, Day and Night brunch or Sunset Saturdays, for instance), expect table minimums to rival the price of whatever the latest sub-compact economy car Hyundai is cranking out these days.
Your connections to the venue – If you have a reputation for regularly spending money at the places you go to, they may cut you some slack on the minimum that you will be charged.  Keep in mind that table minimums are still determined by demand, so you may end up drinking your bottle of dom at the bar instead of seated at a booth.   Clubs take care of their regular clients, so they will be sure to do right by you in order to keep you coming back.
The gender mix of your group – If you are planning on coming with a large group of only guys, clubs will charge you more.  If your group is large enough, they will flat out deny you.  They don't want to throw off their 'ratio' by letting in a large group of only guys.  We once saw a group of 10 guys try to buy a table at 1Oak, the door manager would not allow it at any price, even when the group offered to pay $10,000.  But, being the affluent bon vivant that you are, bringing a few select ladies with you should be no problem right?   So bring them and your table minimum will be lower, your bank account will thank you.
How big your group is – Like we mentioned before, clubs have limited table real estate and a maximum capacity of people that they can accommodate.  A group of 5 that would like to reserve a table can expect to have a lower minimum than a group of 10 (other things being equal).
How closely your image matches the club's desired image – The cast of jersey shore may not be able to gain entry to Provocateur, No 8, or the Electric room at any price, however groups of sophisticated, affluently dressed, socialites with lots of tall leggy women with them may not have to pay very much at all to gain entry to these places.
Negotiating leverage – If you go through a promoter, or booking service, they may be able to negotiate a lower minimum for your group.  Table minimums can often be cut down significantly through this method.  Keep in mind that using this method, you will not get a better price on the alcohol that you buy (these prices are fixed), but you will not be required to buy as much to gain entry.  You will still have to buy enough to keep the drinks flowing all night, however.  Clubs are often willing to negotiate with these groups as they bring a lot of business to the club which acts as a bargaining chip.
---
More info on NYC Bottle Service
NYC's most exclusive bottle service clubs
Guide to Bottle Service Prices at Exclusive NYC Clubs
---